Verdicts & Settlements
Local Judges, Deputy District Attorneys, and other local attorneys respect and admire Mr. Blumberg. He has triumphed as the lead defense attorney in well over 30 jury trials in state and federal courthouses in San Diego County with an impressive number resulting in "Not Guilty" jury verdicts or dismissals by the Judge. On other countless cases, he has successfully convinced the District Attorney and United States Attorney to not file criminal charges. Detectives are familiar discussing surrenders and investigation interviews with Mr. Blumberg while District Attorneys and Judges trust him when conducting serious negotiations.
Mr. Blumberg's clientele include professionals such as Doctors, Lawyers, Nurses, Teachers, Pilots, members of each Military branch and even sworn Law Enforcement Officers and Federal Agents. Mr. Blumberg is familiar with the professional reprimands of a criminal conviction and will properly advise you on issues that may potentially have long lasting negative consequences.
DUI Results
 

1st DUI Offense — NOT GUILTY jury trial verdicts

 

1st DUI Offense — DUI DISMISSED for non alcohol related offense

 

2nd DUI Offense .24 — DISMISSED at suppression hearing

 

2nd DUI .24 — HUNG JURY trial verdict

 

2nd DUI with prescription drugs — guilty jury verdict SET ASIDE by trial Judge

 

3rd DUI Prior — dismissed

 

4th DUI Felony — reduced to misdemeanor

 

Felony DUI with Great Bodily Injury — reduced to a Misdemeanor
Driving Offenses
 

Hit and run driving — NOT GUILTY jury trial verdict

 

Exhibition of Speed — NOT GUILTY jury trial verdict
Drug Results
 

Felony Possession for Sale — Dismissed at suppression hearing

 

Felony Possession for Sale, Marijuana — Misdemeanor Conviction

 

Importation of Methamphetamine — NOT GUILTY jury verdict

 

Importation of Cocaine — NOT GUILTY jury verdict

 

Client charged with transporting thousands of ecstasy pills, while carrying a loaded firearm and DUI — Result: client pled to charges which can ultimately be reduced to a misdemeanor and client served ONE day in jail.
Serious and Violent Felony Results
 

Felony Battery with Great Bodily Injury — DISMISSED by District Attorney

 

Armed Robbery with a Gun — NOT GUILTY jury verdict on gun allegation

 

Making Criminal Threats — NOT GUILTY Jury verdict

 

Cab Driver crashes into crowd of 40 people — NO CHARGES FILED by District Attorney
Sex Offense Cases
 

Indecent Exposure — case rejected and not filed by District Attorney

Domestic Violence

 

Corporal Injury of a significant other and Battery on a Spouse or significant other — charges dismissed after arraignment
These are sample results of actual cases handled by Isaac Blumberg. Because every case has unique facts, there is no way to guarantee your case will have the same result but he can guarantee the same dedication for those seeking justice.
Have you been charged with a crime and need the help of an experienced Criminal Defense Attorney?
Call to arrange your free consultation.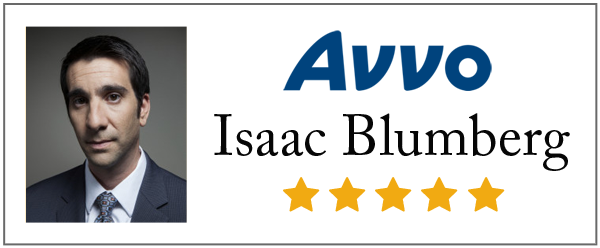 Do you need your record cleared?
We are San Diego's Original Expungement Law Firm. Please visit our sister site OFF MY RECORD for more information.

REQUEST A FREE CONSULTATION