San Diego Domestic Violence Criminal Defense Attorney
Domestic violence is a serious issue that has become a political and public relations powder keg for law enforcement agencies and prosecutors. High profile domestic violence cases involving celebrities have put pressure on district attorneys and law enforcement officers to be exceptionally tough in cases involving domestic violence allegations. This pressure can motivate police to engage in a rush to judgment. While domestic violence is an important issue, some unscrupulous parties in family law cases have discovered that a false allegation of domestic violence can be a powerful sword rather than a shield of protection. Because these allegations often involve a "he said-she said" scenario with no other witnesses, allegations of domestic violence are particularly susceptible to abuse.
San Diego criminal defense attorney Isaac Blumberg has handled thousands of criminal matters, so he has experience ferreting out false allegations that stem from nefarious motives. Mr. Blumberg recognizes that parties to family law dispute may exaggerate or fabricate claims of domestic violence to seek restraining orders, residential kick-out orders and the majority of parenting time. He has successfully defended many people charged with domestic violence. Whether he is attacking the credibility of the complaining witness or exposing unlawful conduct by police, Mr. Blumberg leaves no stone unturned when representing individuals facing domestic violence charges.
Have you been charged with a crime and need the help of an experienced Criminal Defense Attorney?
Call to arrange your free consultation.
What Constitutes

Domestic

Violence under California Law?
A domestic violence offense can actually include various forms of conduct under the California Penal Code. Many acts of domestic violence also constitute other types of criminal offenses, such as criminal threats, assault, battery, etc. However, domestic violence may be charged when an act of violence, physical force or a threat is committed against a spouse, girlfriend/boyfriend, intimate partner, co-habitant, fiancé or co-parent. When this type of close personal relationship exists between the accused and the complaining witness, the potential punishment can be more severe.
Because domestic violence charges are based on the relationship between the parties, there are a number offenses that may be brought under the rubric of domestic violence based on the underlying conduct and identity of the parties. Examples of domestic violence include:
Domestic Battery (PC Section 242(e)(1)


This misdemeanor will be charged if an accused inflicts force or violence on a girlfriend/boyfriend, former/current spouse, co-parent, cohabitant, intimate partner or fiancé. There is no requirement that the complaining witness suffer visible injury.
Corporal Injury to a Spouse or Cohabitant (PC Section 273.5)


This offense make it a crime to inflict "corporal injury" that causes "traumatic injury" on a current/former spouse, co-parent or cohabitant. An accused will be charged with this offense for a battery that causes a visible physical injury even if the injury is minor.
Criminal Threats (PC Section 422)


This offense involves intentionally threatening serious harm to someone you intend to scare which actually causes the target to be fearful. This offense is a "wobbler", so it could be charged as either a misdemeanor or felony. If an individual is convicted of a felony under PC Section 422, the conviction counts as a strike under the California Three Strikes Law.
Child Abuse (PC Section 273[d])


This version of domestic violence involves inflicting "corporal punishment" on a child if the conduct is "cruel or inhuman" and causes any type of injury. However, reasonable physical discipline by a parent (i.e. a spanking) will not constitute a violation of this statute.
Elder Abuse (PC Section 368)


If the target of physical, financial or emotional abuse, neglect or endangerment is 65 or older, this offense may be charged.
Child Endangerment (PC Section 273[a])


This offense will be charged for willfully allowing a child (in the custody or care of the accused) to experience harm or to place the health or the safety of the child at risk. An example might include a mother who drives her kids to school without a car seat while under the influence of alcohol. A mom who allows an abusive boyfriend continuing access to her child also might be charged with this offense.
Impact of a California Domestic Violence Conviction
If you suffer a conviction of a domestic violence offense, the consequences can have a substantial impact on your future. While the precise penalties will vary depending on the facts, circumstances, injuries and the defendant's criminal record, the consequences might include some or all of the following:
Jail/State Prison:  While the period of incarceration will vary San Diego like most California counties imposes a mandatory thirty day jail sentence even for a first time conviction of a domestic violence offense.
Loss of Constitutional Rights:  If you are convicted of a domestic violence offense, the court will restrict your ability to own or possess a firearm. You may also be subject to warrantless searches. If you are convicted of a felony form of domestic violence, you also will have your right to vote or serve on a jury suspended.
Restraining Orders:  The court will order you to have no contact with the complaining witness. When protective orders are imposed, you also might be excluded from your home and have access to your children limited.
Counseling/Education:  A person convicted of a domestic violence crime might be order to complete a 52-week domestic batterer class.
Record of Conviction:  When you suffer a criminal conviction for a domestic violence offense, the conviction will be part of your criminal record. When employers, landlords, professional licensing entities, immigration agencies or state occupational licensing agencies run a criminal background check, your criminal conviction may have an adverse impact.
Vigorous Defense to Domestic Violence Offenses
If you are arrested following a confrontation with your significant other, co-parent or spouse, you should indicate that you do not wish to answer any questions until you have your San Diego criminal defense attorney present to advise you. While you might feel that you have done nothing wrong, you should allow your criminal defense attorney to evaluate what information to communicate to police. The purpose of an interrogation is not to uncover exculpatory facts, so the police can let you go. The objective of law enforcement officers is to gather evidence that can be used to send you to jail or prison.
Mr. Blumberg can protect you from overzealous conduct by the police and explore the reliability of the complaining witness. Because you may face exposure to a mandatory minimum if you are convicted, you have a compelling basis for seeking an acquittal or dismissal. Even if the evidence against you does not make such an outcome reasonably likely, Mr. Blumberg will aggressively challenge the evidence and seeking exculpatory evidence to obtain the best possible outcome. We invite you call us at 619-525-9911 to learn how we can help.
Jurisdictions
All California State and Federal Courts
---
Education
University of Miami, 2001 BA Political Science
Emory University School of Law, 2004, Juris Doctorate
Admitted To The Bar: 12/2004
---
Professional Memberships and Achievements
State Bar of California
San Diego North County Bar Association
North County Bar Lawyer Referral Panel
San Diego County Office of Assigned Counsel Panel Member
National Association of Criminal Defense Lawyers (NACDL)
---
Languages Spoken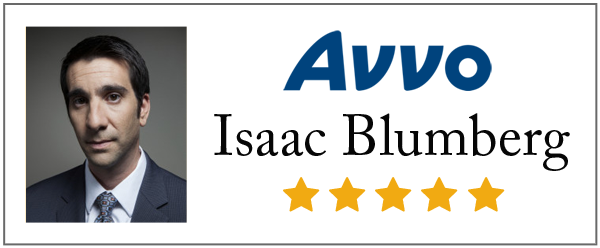 "Isaac is the only attorney I recommend to friends and family. He is honest, tells it like it is, trustworthy, and gets the job done. He sees both sides of the story, and recommends what is best for you, while weighing out the pros and cons. He answers the phone and responds back to emails quickly. His office is friendly and hard-working as well."
Do you need your record cleared?
We are San Diego's Original Expungement Law Firm. Please visit our sister site OFF MY RECORD for more information.

REQUEST A FREE CONSULTATION