Fraud / White Collar Crime
Protecting Your Reputation and Career — San Diego White Collar Crime Attorney
White collar crimes like health care fraud, embezzlement, tax evasion, identity theft, insurance fraud, Ponzi schemes and related crimes have become an increasing focus for state and federal law enforcement agencies. In some cases, individuals convicted of a pattern of white collar crimes are receiving sentences similar to those who commit violence criminal offenses. Even the specter of fraud allegations can damage your career, professional reputation and financial future. If you are the subject of a law enforcement investigation into white collar financial crimes, you should decline to answer any questions and seek immediate legal advice.
Experienced San Diego white collar crimes attorney Isaac Blumberg has the experience and skill required to defend clients in cases involving voluminous documents and complex financial transactions. Because a pattern of fraud crimes or other financial malfeasance can result in many years of incarceration in state prison, you cannot delay in seeking legal advice. Mr. Blumberg is committed to early intervention, which can affect the scope of the investigation and limit the charges.
Aggressively attacking law enforcement investigative procedures including searches of your financial records and computer might result in discovery of an unlawful search and seizure. Exclusion of these records can cripple the prosecutor's case. Mr. Blumberg brings extensive experience handling all types of criminal matters along with significant trial experience. He has handled thousands of criminal matters and obtained numerous acquittals after trial in the course of representing clients in nearly thirty jury trials.
The term "white collar crimes" is a general umbrella term that refers to a range of financial crimes often charged against professionals like business people, accountants, medical providers, lawyers and others. Many people charged with a white collar crime like fraud have never been accused of a crime let alone been formally charged. While the prospect of confronting the criminal justice system for the first time can be an unsettling experience, Mr. Blumberg diligently protects the rights and reputation of his clients while demystifying the process every step of the way. 
Have you been charged with a crime and need the help of an experienced Criminal Defense Attorney?
Call to arrange your free consultation.
California White Collar Crimes
There are so many types of financial crimes that are charged against people from all walks of life that it is impossible to discuss all of these offenses. The Law Office of Isaac Blumberg has provided some examples of California white collar crimes, but he invites you to contact us to discuss your particular situation.
Health Care Fraud
Health care fraud has become an increasing focus for law enforcement authorities in recent years because of the media spotlight on the rising cost of health care. Law enforcement agencies throughout Southern California have been provided with grants from the government to facilitate increased investigation and prosecution of cases involving false or misleading insurance billing practices.
Health care fraud cases often involve a litany of charges depending on the facts and circumstances. Many cases involve charges under Insurance Code Section 1871.4 and Penal Code Section 550. These sections apply to cases when the person submitting the insurance claim makes false statement to obtain or deny insurance benefits. Since false statements are used to obtain the health insurance benefits, the accused also frequently faces a Penal Code Section 118 charge for perjury.
Because insurance companies are paying less for health care service, a growing number of doctors and other health care professionals are being charged with fraudulent billings. This may involve practices of miscoding for a more expensive service, billing for services not provided, billings for more tests than performed and similar false billing practices.
Embezzlement (Penal Code Section 503)
The California crime of embezzlement refers to fraudulently appropriating the property of someone else that has been entrusted to you. While some embezzlement cases involve substantial sums of money controlled by financial advisors and executives, this crime can be charged against individuals across the socio-economic spectrum. There is no requirement that the accused embezzle a significant sum of money to be charged with this offense. Embezzlement is treated like either grand theft or petty theft depending on the circumstances, so it is punished as a grand theft or petty theft offense.
Insurance Fraud
Insurance companies are analyzing insurance claims more closely than in the past. Sometimes insurance companies pursue law firms for staging accidents or the illegal use of "cappers" who recruit people to make fraudulent insurance claims. When investigating these offenses, law enforcement agencies may execute search warrant on law firms and their bank accounts.
Identity Theft (PC Section 530.5[a])
An individual can be charged with identity theft if he or she intentionally and unlawfully acquires and retains the identity documents and information of another person. In most cases, this offense involves obtaining personal information by electronic means or the alleged victim's mail. This information can be used to open bank accounts, make purchases, apply for loans and obtain credit cards. Each count of identity theft can be charged as a felony and exposes the accused to 3 years in state prison, mandatory restitution and more.
Credit Card Fraud
Southern California law enforcement agencies have focused more manpower and resources on the prevention and prosecution of credit card theft in recent years. This offense is usually charged based on allegations that the accused stole or used a lost credit card. In some case, the accused also might be accused of using identity theft to obtain the card. A conviction constitutes a felony that can result in incarceration and the obligation to pay restitution to the alleged victim and/or financial institution. Examples of charges that might be brought in a case involving credit card fraud include:
Mail Theft (PC Section 530.5[e])
Perjury (PC Section 118)
Identity Theft (PC Section 530.5[a])
Unlawful Access Card Activity (PC Section 484i[c])
False Financial Statement (PC Section 532[a][1])
Receipt of Stolen Property (PC Section 496[a])
Forgery (PC Section 470)
Forgery can be used in a variety of ways to obtain money or property that belongs to someone else. Forgery is defined under California law as "making or altering a false writing with intent to defraud." Examples include:
Signing another person's name
Altering, faking or presenting a document as a genuine original to obtain money, finances or property
Modifying or falsifying a legal document (like title or deed documents)
Fake another person's handwriting or a seal
The crime of forgery requires that the purpose of the false or modified writing be to seek financial gain or other benefits. Even if you fake someone else's signature, this act does not constitute forgery unless you did so to commit fraud.
If you are a professional or business person, conviction of a white collar crime could cost you your business, professional license, freedom and reputation. San Diego fraud attorney Isaac Blumberg understands the high stakes his clients face and fights vigorously to protect their livelihood and reputation while keeping them out of jail. Mr. Blumberg provides fervent defense to all serious felonies and misdemeanors in San Diego and throughout Southern California. Mr. Blumberg can analyze your situation and advise you of your rights. We invite you call us at 619-525-9911 to learn how we can help.
Jurisdictions
All California State and Federal Courts
---
Education
University of Miami, 2001 BA Political Science
Emory University School of Law, 2004, Juris Doctorate
Admitted To The Bar: 12/2004
---
Professional Memberships and Achievements
State Bar of California
San Diego North County Bar Association
North County Bar Lawyer Referral Panel
San Diego County Office of Assigned Counsel Panel Member
National Association of Criminal Defense Lawyers (NACDL)
---
Languages Spoken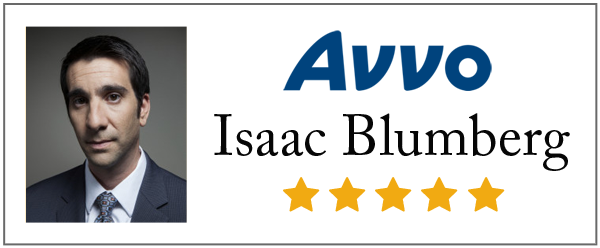 "Isaac is the only attorney I recommend to friends and family. He is honest, tells it like it is, trustworthy, and gets the job done. He sees both sides of the story, and recommends what is best for you, while weighing out the pros and cons. He answers the phone and responds back to emails quickly. His office is friendly and hard-working as well."
Do you need your record cleared?
We are San Diego's Original Expungement Law Firm. Please visit our sister site OFF MY RECORD for more information.

REQUEST A FREE CONSULTATION