Zealous Representation to Protect Your Liberty and Reputation — San Diego Burglary Attorney
Whether you are merely the target of an investigation or you have been formally charged with the California criminal offense of burglary, the consequences of a conviction can turn your life upside down. If you have been arrested, you should not talk to the police or the prosecutor. You also should immediately assert your right to a San Diego criminal defense attorney. Residential or commercial burglary under California Penal Code Section 459 is a criminal offense that can land you in jail or state prison. Early intervention by a skilled criminal defense lawyer means you have someone on your side, protecting your constitutional rights and building an effective defense strategy.
San Diego County criminal defense attorney Isaac Blumberg fully employs his extensive experience handling thousands of criminal matters throughout Southern California. Mr. Blumberg limits his practice to defending individuals charged with misdemeanors, serious felonies and violent felonies. While Mr. Blumberg recognizes that plea agreements that involve a diversion program can be a win, his initial focus is helping his clients obtain a dismissal of the charges or an acquittal following trial.
If you have not yet been formally charged with a crime, Mr. Blumberg might be able to positively impact the charging decision if he is retained during the pre-charge investigation. When he defends clients during this stage of a criminal investigation, he may oppose unlawful searches, limit the scope of interrogations and expose the unreliability of government witnesses. While some attorneys take a "wait and see" approach, Mr. Blumberg recognizes that aggressive intervention during the pre-charge stage of a case can limit the number and severity of charges. He might even be able to convince the prosecutor that no formal charges should be filed.
Have you been charged with a crime and need the help of an experienced Criminal Defense Attorney?
Call to arrange your free consultation.
What Is Burglary under California Penal Code Section 459?
The California criminal offense of burglary is defined as entering a structure or other types of specified enclosure with the intent of engaging in a theft or felony once inside the structure. The key distinction between a theft and burglary is that burglary requires the intent to commit a criminal offense (e.g. felony/theft) when entering the structure.
By way of example, an individual who engages in petite theft by shoplifting when inside a department store generally would not be charged with burglary. In such a situation, there will typically be no evidence the shoplifter had the intent to commit a crime before entering the store. If the person brought tools to remove security tags and a backpack to hide merchandise, this might be sufficient evidence of intent to support a burglary charge.
P.C. Section 459 encompasses a much broader range of conduct and circumstances than depicted in television crime dramas. Although entry into the building is usually forced on crime procedural shows, there is no requirement that a burglary be limited to such situations under California criminal law. The language of the statute also encompasses many types of enclosures beyond residences and commercial businesses. A burglary may be charged if the enclosure is a motorhome, car, stable, mobile home, barn, stable, airplane or train.
The broad application of the term "entry" also means that you can be charged under circumstances where you get "cold feet", so you are never actually fully "in" the structure. If any part of your body or even an object under your control crosses the outermost threshold of the structure, this will constitute an "entry" under the burglary statute.
Residential Burglary vs. Commercial Burglary
Burglary is divided into two general categories under PC Section 459: (1) residential burglary and (2) commercial burglary.
Residential Burglary (First Degree Burglary)
Residential burglary will be charged when the structure is an "inhabited dwelling". This term is a bit of a misnomer because there is no requirement that the structure actually be occupied. This more serious form of burglary can be charged as long as the structure is the type within which people live and sleep. The offense that the accused intends to commit once inside the structure must be at least a "wobbler" offense, which is an offense that can either be charged as a misdemeanor or felony, or a theft for the offense to be charged as a felony. The exposure for a conviction of residential burglar is up to six years in state prison. Further, the conviction counts as a strike under California's three strikes law.
Commercial Burglary (Second Degree Burglary)
When the burglary involves an office complex, bank, department store or other structure where people do not usually live, the offense is considered second degree burglary or commercial burglary. Commercial burglary is a "wobbler" offense under California law, so the prosecutor can charge the offense either as a misdemeanor or a felony. The charging decision by the prosecutor will depend on the circumstances of the offense and the criminal record of the accused. A misdemeanor burglary conviction can carry a sentence of up to a year in county jail whereas as a felony conviction of commercial burglary can result in a maximum term of up to 3 years in state prison. Even if a person is convicted of the felony version of commercial burglary, the offense does not count as a strike under California's three strikes law.
Effective Defense Strategies in Burglary Cases
When Mr. Blumberg is retained to defend a client against a burglary charge, he engages in a thorough investigation to construct a persuasive and effective defense. Mr. Blumberg may seek to suppress evidence obtained in violation of the constitutional rights of the accused. Specific defenses to a burglary charge that Mr. Blumberg might successfully employ when advocating for clients include:
Faulty Identification:  While many people think that eyewitness identification is a reliable form of evidence, misidentification is the key evidence in 75 percent of wrongful convictions overturned by DNA evidence. Hundreds of studies have revealed that eyewitness identifications are frequently inaccurate.
Mistake:  Mr. Blumberg may argue that you reasonably thought that you had the right to be present on the premises or that you were a partial owner of the premises. He also may present evidence that you reasonably believed that you thought you had permission to borrow an item you are accused of stealing.
No Intent:  A burglary conviction requires the intent to commit a predicate felony once you are inside the structure. If you are arrested prior to committing the predicate felony, the prosecutor might have an extremely difficult time proving that you had the requisite intent when you entered the structure.
Protecting the Rights of Individual from Government Overreaching
Whether you have been formally charged with burglary or another criminal offense, you could face incarceration, a criminal record, probation and other significant penalties. Mr. Blumberg has handled dozens of jury trials throughout Southern California, so prosecutors recognize that Mr. Blumberg will not go along to get along. Mr. Blumberg recognizes that his clients face dire circumstances, so he uses all of his experience, resources and knowledge to obtain the best possible outcome for his clients. We invite you call us at 619-525-9911 to learn how we can help.
Jurisdictions
All California State and Federal Courts
---
Education
University of Miami, 2001 BA Political Science
Emory University School of Law, 2004, Juris Doctorate
Admitted To The Bar: 12/2004
---
Professional Memberships and Achievements
State Bar of California
San Diego North County Bar Association
North County Bar Lawyer Referral Panel
San Diego County Office of Assigned Counsel Panel Member
National Association of Criminal Defense Lawyers (NACDL)
---
Languages Spoken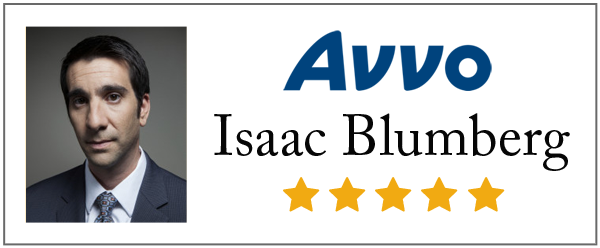 "Isaac is the only attorney I recommend to friends and family. He is honest, tells it like it is, trustworthy, and gets the job done. He sees both sides of the story, and recommends what is best for you, while weighing out the pros and cons. He answers the phone and responds back to emails quickly. His office is friendly and hard-working as well."
Do you need your record cleared?
We are San Diego's Original Expungement Law Firm. Please visit our sister site OFF MY RECORD for more information.

REQUEST A FREE CONSULTATION