Effective Defense Against Hit and Run Charges — San Diego Hit and Run Attorney
When you are involved in a collision in San Diego, you are likely to be upset and confused. California law prohibits a motorist from simply driving away from the scene of an accident. However, the chaos and shock of a crash can result in a driver leaving the scene out of fear, disorientation or confusion. When a driver simply drives away from the scene of a car crash, he or she can be charged with hit and run, which carries significant criminal penalties. Whether you are under investigation for a hit and run accident or you have been formally charged, you should not speak to the police until you have an experienced San Diego criminal defense attorney present to protect you from overzealous police and prosecutors.
If you are involved in a crash with another vehicle in California that results in property damage, injury or death, you are required to stop and exchange information and provide assistance to injury victims. If you are charged with hit and run after a collision in San Diego, you will typically face a misdemeanor charge for property damage, or a felony charge if anyone suffers bodily injury.
San Diego hit and run attorney Isaac Blumberg has successfully defended thousands of people in criminal courts throughout Southern California charged with criminal offenses ranging from misdemeanors to violent felonies. While most criminal cases are resolved prior to trial, Mr. Blumberg believes the most effective way to negotiate a favorable plea agreement is to prepare an effective defense strategy for trial. When a prosecutor will not agree to a resolution that is favorable to his client, Mr. Blumberg does not hesitate to take a case to trial. He has handled over 30 jury trials during his time defending individuals accused of criminal offenses in Southern California. Whether he is arguing at a suppression hearing for exclusion of an incriminating statement obtained in violation of his clients Miranda rights or fiercely cross-examining a police officer, Mr. Blumberg does not compromise with his clients' freedom or future.
Have you been charged with a crime and need the help of an experienced Criminal Defense Attorney?
Call to arrange your free consultation.
What Constitutes Felony Hit and Run in California?
There are two versions of hit and run under California law: (1) hit and run involving property damage and (2) hit and run resulting in injury. When a driver leaves the scene of a collision, he can be charged with a misdemeanor if the accident caused property damage. If someone other than the accused is injured in the crash, the driver can be charged with a felony.
Under California law, a driver involved in a crash has certain mandatory duties with which he or she must comply. Failure to perform ANY of these duties can result in a felony hit and run charge:
Stopping immediately at the scene of the crash
Rendering "reasonable assistance" to anyone who suffers injury
Exchanging driver's license name, home address, vehicle registration number as well as the name and contact information for the vehicle owner
Notifying law enforcement if the accident causes a fatality
When a motorist fails to satisfy any of these requirements, the driver can be charged with felony hit and run. California law imposes a legal duty to determine the type of assistance needed by an injury victim and to render such assistance. Depending on the nature of the victim's injuries, this might involve securing medical attention, arranging transportation or personally transporting the victim to a medical center for treatment. Failure to render aid is not excused by the presence of other people at the scene who also could provide assistance. It also is important to be aware that the duty to render assistance to injury victims applies to both drivers regardless of who is legally responsible for causing the collision. The duty to render assistance applies not just to the other driver but to anyone injured at the scene, including passengers, pedestrians or anyone else who suffers injury.
What Should I Do If I Left the Scene of a San Diego Accident?
If you panicked and drove away only a short-time ago, you should immediately return to the scene of the collision to mitigate the potential impact of your initial decision to leave the scene. You should exchange the appropriate information with the other driver and provide assistance to anyone who experienced injury. While this will not nullify your earlier conduct because a hit and run violation occurs as soon as you drive away, your conduct might result in mitigation of the charges or punishment.
There are situations where a driver has legitimate reasons for not stopping at the scene of an accident. For example, the other driver might get out of his vehicle waving a firearm and threatening you. If you have a reasonable fear for your safety, you should immediately dial 911 to report the accident and request medical assistance. After summoning medical assistance, you should drive to the nearest CHP patrol station or police station to report that car accident.
Sentencing in a San Diego Court for Felony Hit and Run
There are a range of factors that will impact the sentence imposed for felony hit and run. When the victim experiences mild injuries, the penalty might include no jail time up to three years in a California State Prison. If someone injured in a hit and run crash suffers severe, permanent injury, the sentence may range from a mandatory minimum of 90 days to a maximum of four years in state prison. There are additional factors that will impact sentencing in a hit and run case, including but not limited to the following:
Crash involving multiple injury victims
Poor driving record or prior criminal convictions
Conduct constituting reckless driving
Leaving the scene while intoxicated by drugs or alcohol
Voluntarily coming forward and accepting responsibility
Efforts to get medical attention for injury victims (e.g. calling 911)
Misdemeanor Hit and Run (Property Damage Only)
A prosecutor must prove beyond a reasonable doubt that you were involved in a collision and that you knew or reasonably should have known the collision caused property damage. The issue of constructive knowledge of property damage typically will be depend on the severity of the crash based on extent of property damage. Misdemeanor hit and run is more difficult for the prosecutor to prove because you must be shown to have violated all of the legal duties above in terms of failing to stop, exchange information and render assistance whereas a felony conviction only requires proof of violating one of these legal duties.
Tenacious Defense to San Diego Hit and Run Charges
If you are charged with felony hit and run, you could face years in jail and other serious penalties, so you need a San Diego criminal defense lawyer who will scorch the earth in your defense. Mr. Blumberg draws on experienced handling thousands of criminal matters to pursue the best outcome for his clients. He zealously defends his clients' constitutional and statutory rights. When evidence or damaging statements are obtained in violation of 4th Amendment search and seizure rights, Miranda violations or through unlawful coercion, he routinely seeks exclusion of critical evidence.
Mr. Blumberg also relies on a number of defenses that are specific to charges of hit and run, such as:
No Constructive or Actual Knowledge of Injury or Property Damage:  If you are in a large lifted pickup or a SUV, you might reasonably be unaware that you were involved in a minor collision. Similarly, if you committed a driving error that caused another vehicle to swerve and collide with a third vehicle, you also might not be aware that you were involved in a car accident.
Vehicle Owner Not Driving:  If someone else was driving your car, you cannot be charged with hit and run unless you were a passenger in the vehicle at the time of the accident. Similarly, if you have reported your vehicle stolen, this might constitute a defense.
No Damage to Another's Property:  Hit and run only applies if you damage another individual or company's property. If the only damage caused by the accident was to your own vehicle, you cannot be convicted of hit and run.
Contact San Diego Criminal Defense Attorney Isaac Blumberg Today!
If you have been arrested for hit and run, you should immediately assert your right to a criminal defense attorney and decline to speak with the police. The purpose of an interrogation is to gather evidence supporting formal charges not to "clear things up." As the saying goes, "Anything you say can and will be used against you." Mr. Blumberg is committed to reigning in overzealous law enforcement officers while diligently pursuing the best outcome for his clients. We invite you call us at 619-525-9911 to learn how we can help. Mr. Blumberg handles hit and run cases in San Diego and throughout San Diego County.
Jurisdictions
All California State and Federal Courts
---
Education
University of Miami, 2001 BA Political Science
Emory University School of Law, 2004, Juris Doctorate
Admitted To The Bar: 12/2004
---
Professional Memberships and Achievements
State Bar of California
San Diego North County Bar Association
North County Bar Lawyer Referral Panel
San Diego County Office of Assigned Counsel Panel Member
National Association of Criminal Defense Lawyers (NACDL)
---
Languages Spoken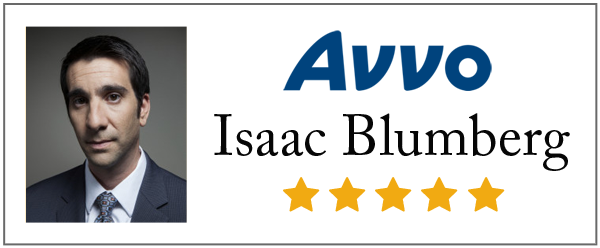 "Isaac is the only attorney I recommend to friends and family. He is honest, tells it like it is, trustworthy, and gets the job done. He sees both sides of the story, and recommends what is best for you, while weighing out the pros and cons. He answers the phone and responds back to emails quickly. His office is friendly and hard-working as well."
Do you need your record cleared?
We are San Diego's Original Expungement Law Firm. Please visit our sister site OFF MY RECORD for more information.

REQUEST A FREE CONSULTATION