Defending Those Charged with Petty Theft and Grand Theft—San Diego Theft Defense Lawyer
Many people charged with a theft offense in San Diego and the surrounding areas of Southern California are good people who make a regrettable mistake or buckle under overwhelming financial pressure. During tough economic times, financially desperate parents might feel compelled to commit a theft just to make ends meet.
San Diego criminal defense attorney Isaac Blumberg understands that people often feel cornered by dire economic circumstance, but law enforcement officers and prosecutors are far less understanding. Whether you are charged with petty theft under California Penal Code Section 484 (PC Section 484) or grand theft under Penal Code Section 487 (PC Section 484), a criminal conviction can mean a record that impacts many facets of your life, including future relationships, career advancement, educational opportunities, immigration benefits, rental housing options and more.
San Diego theft crimes attorney Isaac Blumberg recognizes that the impact of a theft conviction extends beyond the formal punishment imposed by a judge. Mr. Blumberg often hears from clients that took the first plea offer from a prosecutor because it did not include jail or prison time. These individuals contact Mr. Blumberg years or even decades later when they are denied a security clearance or lose out on a job opportunity because of their criminal record. Mr. Blumberg understands that there are situations where negotiating a plea agreement might make sense. However, his clients also are made aware that certain convictions will still show up in a background check even after the offense is expunged, depending on who and why the background check is being conducted.
Mr. Blumberg meticulously evaluates the facts, evidence and law enforcement procedures, so that he can provide answers and determine a strategy for keeping his client out of jail or prison. He has successfully handled thousands of criminal matters. If the prosecutor will not agree to diversion or another acceptable outcome, Mr. Blumberg does not shy away from trial. He has tried nearly 30 criminal cases to a jury. He will fight for you in and out of the courtroom.
Have you been charged with a crime and need the help of an experienced Criminal Defense Attorney?
Call to arrange your free consultation.
What Constitutes Petty Theft and Grand Theft in California?
The crime of theft is divided into two classifications – petty theft and grand theft with the nature of the charge depending on the property that is taken unlawfully.
Petty Theft
Under California law, the criminal offense of theft is defined as the illegal taking of property that belongs to another individual or entity. An unlawful taking of another individual's property is petty theft if all of the following apply:
The value of the property taken is $950 or less;
The property is not taken directly from the person in a face to face confrontation (e.g. robbery or a mugging);
The items taken are not cars, firearms, farm animal or a horse
Although not every criminal case involving a charge of petty theft involves shoplifting (also referred to as "theft by larceny"), the vast majority petty theft cases involve pilfering items from stores. Examples of petty theft that are not classic cases of shoplifting include "borrowing" a $900 laptop from a friend with no intention of giving the computer back. Another example might include walking off with a co-worker's $500 iPad after a conference at work.
If an individual is convicted of petty theft in California, the individual's exposure to punishment includes either or both of the following:
Up to a six months in jail
A maximum fine up to $1,000
Grand Theft
Generally, a theft that does not meet all of the requirements for being a petty theft will constitute grand theft. In other words, grand theft will be charged if the value of the property exceeds $950, or the item taken is a designated item like a car or firearm. The theft also will be considered grand theft if the property is taken off another's person. There are certain extremely rare exceptions where grand theft may be charged when the dollar amount is lower, but these examples are so rare that they do not merit discussing.
Defenses to Theft Charges in California
San Diego criminal defense attorney Isaac Blumberg reviews evidence like store surveillance footage and loss prevention reports. He also interviews store employees and other witnesses. Mr. Blumberg also will seek to suppress evidence obtained in violation of your constitutional rights, including incriminating statements or stolen merchandise discovered during an unlawful search. When you retain the Law Office of Isaac Blumberg, you can expect the prosecutor's case to be carefully dissected and vigorously attacked.
While the specific defenses that Mr. Blumberg asserts in your case will depend on the facts, some specific defenses that might be employed in a theft case include:
Mistake:  If you did not intend to take the item, you cannot be convicted of theft. Sometimes people walk out of stores without paying for merchandise by mistake. If you are stressed, distracted or confused, you might walk out of a store and forget that you have an item in your hand. Alternatively, you might place an item that you intend to pay for in your purse so that you do not need to carry it around.
Consent:  If the owner of property consents to you taking possession of the item, you cannot be charged with theft simply because the owner has a change of heart. However, your use of the property cannot exceed the scope of the consent. If your neighbor lends you his or her car to take the neighbor's kids to school, this does not permit you to lawfully drive the car to Las Vegas for the weekend.
False Accusations: Sometimes overzealous loss prevention representatives will falsely accuse people of shoplifting. False accusations also might be the result inaccurate witness identifications.
Good Faith Belief in Ownership: If you own the property or honestly believe that you own the property, you lack the intent to steal.
Providing Zealous Defense – Law Office of Isaac Blumberg
If you have been arrested or charged with petty theft or grand theft, Isaac Blumberg diligently pursues the most favorable outcome for his clients. While my primary goal is to seek dismissal or acquittal when this is a viable option, Mr. Blumberg will also explore diversion options. If you have no prior record and simply made an isolated mistake, you may be able to avoid a criminal conviction by paying restitution through a civil compromise along and performing community service. We invite you call us at 619-525-9911 to learn how we can help.
Jurisdictions
All California State and Federal Courts
---
Education
University of Miami, 2001 BA Political Science
Emory University School of Law, 2004, Juris Doctorate
Admitted To The Bar: 12/2004
---
Professional Memberships and Achievements
State Bar of California
San Diego North County Bar Association
North County Bar Lawyer Referral Panel
San Diego County Office of Assigned Counsel Panel Member
National Association of Criminal Defense Lawyers (NACDL)
---
Languages Spoken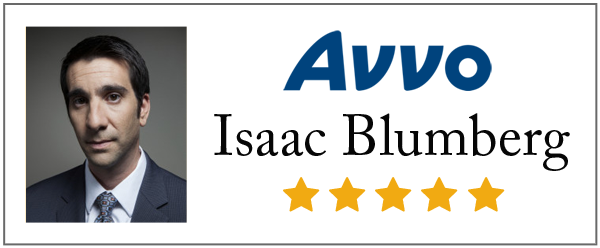 "Isaac is the only attorney I recommend to friends and family. He is honest, tells it like it is, trustworthy, and gets the job done. He sees both sides of the story, and recommends what is best for you, while weighing out the pros and cons. He answers the phone and responds back to emails quickly. His office is friendly and hard-working as well."
Do you need your record cleared?
We are San Diego's Original Expungement Law Firm. Please visit our sister site OFF MY RECORD for more information.

REQUEST A FREE CONSULTATION