San Diego Drug Robbery Criminal Defense Attorney
If you are charged under California Penal Code Section 211, you face very serious consequences because a conviction of this offense is considered a felony "strike" under the California Three Strikes Law. If you are convicted of robbery, you will lose your freedom, and the conviction will be used to significantly enhance the penalty in the event you are subsequently convicted.
A felony conviction can be a significant impediment that severely interferes with your future and that of your family. If you have a felony record, your conviction can significantly limit your future employment and career advancement opportunities. Because robbery is a crime of moral turpitude, a robbery conviction can result in deportation and disqualification from professional licensing. Whether you are dating, seeking a rental home or applying for a home loan, your criminal record could damage your chances.
San Diego robbery defense attorney Isaac Blumberg defends clients with the tenacity that is appropriate when a person's liberty, reputation and future hang in the balance. Mr. Blumberg is a passionate advocate of the rights of the criminally accused in the face of the overwhelming power and resources of the government. He has diligently represented thousands of people in criminal matters, including violent felonies like robbery. When you are charged with a violent felony, you need an experienced Southern California robbery lawyer who has significant trial experience. Mr. Blumberg has tried almost 30 criminal cases to Southern California juries.
Have you been charged with a crime and need the help of an experienced Criminal Defense Attorney?
Call to arrange your free consultation.
What Must the Prosecutor Prove in a Robbery Case?
Under California Penal Code Section 211 (PC Section 211), the prosecutor must prove the following elements beyond a reasonable doubt when seeking a conviction for robbery:
Taking of property that does not belong to the accused;
from the immediate presence or possession of the complainant;
against the alleged victim's will;
through use of threats or force; and
to permanently deprive the alleged victim of the property or deprive the accused of the property for a period of time that results in loss of a significant portion of the property's value.
In order to parse the language of this definition of robbery, it is necessary to clarify a few of the terms and phrases.
Taking of Property:  This requires more than just possessing the property, the property also must be moved by the accused even if it is only to a miniscule degree.
Immediate Presence or Possession:  Because the statute refers to possession rather than ownership, a patron or employee can be a victim of robbery a convenience store robbery. The victim must have either actual or constructive possession of the property. The property must be within range for the victim to control, inspect or reach for the property.
Against the Alleged Victim's Will:  This simply means that the victim cannot have consented to the accused taking of the property.
Fear or Force:  This standard only requires that the degree of force or fear be sufficient that the victim complies.
Penalty for a San Diego Robbery
While a violation of PC Section 211 always constitutes a felony, the extent of the penalty will depend on whether the crime is charged as first-degree robbery or second-degree robbery.
First-degree robbery involves the following:
Robbery of patrons who have just used an ATM machine
Occupants of commercial vehicles
Inhabited residences
The penalty for first-degree robbery is 3, 4 or six years in state prison. If there are at least three people involved in the robbery of an inhabited residence or building, the penalty is 3, 6 or 9 years in state prison.
Second-Degree Robery
Second-degree robbery involves any other type of robbery other than the three specified cases above. A conviction of second-degree robbery carries a punishment of 2, 3 or 5 years in state prison.
There are also a ride array of factors that might enhance the penalty including:
The victim suffering great bodily harm
Use of a firearm
Street gang involvement
Multiple robbery victims put in fear
Defenses to a Charge of Robbery
While the specific defenses available in a robbery case will depend on the unique facts and circumstances, there are steps that a suspect can take to improve his or her prospects. If a law enforcement officer requests consent to search your car, home or business, you should never grant consent to a search. Admittedly, the officer may search anyway with a warrant or exception to the warrant requirement. However, property allegedly taken in a robbery that shows up in a search might have been the product of an unlawful search. When a person consents to a search, this can make it extremely difficult to argue for exclusion of the evidence discovered. A suspect in a robbery also should refuse to answer any questions without an attorney present. San Diego criminal defense lawyer Isaac Blumberg frequently seeks to have evidence or incriminating statements excluded if they were obtained illegally.
Some specific robbery defenses that Mr. Blumberg might raise include the following:
No Use of Force or Fear:  If no force or fear is used to take the property, the offense is not a robbery. However, another offense might be charged depending on the facts.
Misidentification:  An eyewitness might incorrectly identify the accused, so it is necessary to challenge the identification and search for other witnesses.
No Intention to Keep/Take Property:  While you might use force or fear for some purpose other than to take the property of another, this is not sufficient intent to constitute robbery even if you end up keeping the property. If you use force to throw someone out of your home, you cannot be found to have committed robbery because the person leaves his or her backpack. Again, this does not constitute robbery even if you decide not to return the backpack.
Honest Claim of Right:  If you honestly believe that you own or have a right of possession of the property, this is a legitimate defense to robbery. All that is required is that you have a subjective belief that you have a right to the property even if that belief is not reasonable.
When you contact the Law Office of Isaac Blumberg, you can expect a thorough investigation of the physical evidence, surveillance footage, witness statements, law enforcement reports and all other types of evidence. If you have learned that you are being investigated in connection with a robbery or you have been arrested, you should refuse to talk to the police and immediately indicate you wish to have an attorney present before you answer any questions. Mr. Blumberg provides fervent defense to all serious felonies in San Diego including robbery. Mr. Blumberg can analyze your situation and advise you of your rights. We invite you call us at 619-525-9911 to learn how we can help.
Jurisdictions
All California State and Federal Courts
---
Education
University of Miami, 2001 BA Political Science
Emory University School of Law, 2004, Juris Doctorate
Admitted To The Bar: 12/2004
---
Professional Memberships and Achievements
State Bar of California
San Diego North County Bar Association
North County Bar Lawyer Referral Panel
San Diego County Office of Assigned Counsel Panel Member
National Association of Criminal Defense Lawyers (NACDL)
---
Languages Spoken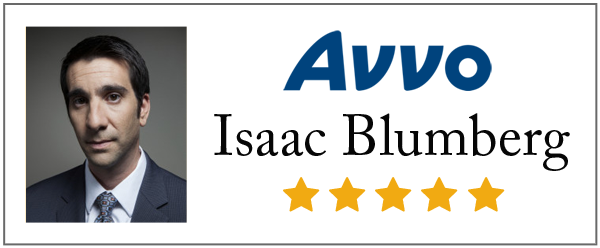 "Isaac is the only attorney I recommend to friends and family. He is honest, tells it like it is, trustworthy, and gets the job done. He sees both sides of the story, and recommends what is best for you, while weighing out the pros and cons. He answers the phone and responds back to emails quickly. His office is friendly and hard-working as well."
Do you need your record cleared?
We are San Diego's Original Expungement Law Firm. Please visit our sister site OFF MY RECORD for more information.

REQUEST A FREE CONSULTATION