Over the years, San Diego criminal defense attorney Isaac Blumberg has tried nearly 30 criminal jury trials and handled thousands of criminal matters all over Southern California. Because of Mr. Blumberg's persuasive trial tactics and presentation, he has developed a strong reputation among defense attorneys, prosecutors and judges in San Diego and throughout Southern California.
Mr. Blumberg has dedicated his career to representing clients who have been accused, investigated, or charged with state or federal crimes. In fact, Isaac Blumberg's past experience as a former San Diego County Deputy Public Defender, makes him uniquely qualified to handle California criminal defense cases. Mr. Blumberg has successfully represented thousands of people accused of crimes ranging from misdemeanors to serious and violent felonies.
At the Law Office of Isaac Blumberg, we recognize that you have a choice in who you select to defend you against criminal charges. We do not hesitate to take cases to trial because Mr. Blumberg recognizes that his clients want a criminal defense attorney prepared to exhaust all means to protect a client's future. Mr. Blumberg is prepared to eviscerate the government's case whether this entails seeking the suppression of evidence, aggressively cross-examining the state's witnesses or asserting effective defenses.
While you might not think it is realistic that innocent people go to jail or prison, thousands of people are victimized by wrongful convictions annually. How does this happen? The criminal justice system puts the individual at a significant disadvantage. The state has the benefit of experienced and well-funded prosecutors presenting their cases to juries anxious to assume guilt. Without an experienced San Diego criminal defense attorney who has the resources to go to the mat against the government, your future can be placed in serious jeopardy.
Have you been charged with a crime and need the help of an experienced Criminal Defense Attorney?
Call to arrange your free consultation.
Mr. Blumberg is not interested in the path of least resistance, which involves going along to get along with the assistant district attorney. Mr. Blumberg's first priority when taking a case is to investigate realistic strategies for getting the charges dismissed or prevailing at trial. While diversion and other favorable plea agreements can constitute a positive outcome, Mr. Blumberg believes that these plea discussions should be founded on an effective trial strategy, so prosecutors understand the risk of losing if they refuse to agree to a plea bargain on his client's terms.
Mr. Blumberg works with a team of investigators and experts prepared to take on the toughest cases. An effective defense often begins with an investigation into law enforcement misconduct and procedures. When searches are unlawful or confessions are obtained in violation of Miranda rights, Mr. Blumberg often files motions to suppress. When he gets key evidence excluded, this frequently results in the charges being dismissed by the government.
With a Juris Doctorate degree from Emory University School of Law, a consistently top 25 ranked law school and a Bachelor of Arts degree from the University of Miami, Isaac Blumberg possesses the broad legal knowledge that has assisted his clients in a wide variety of cases.
Mr. Blumberg has received many "not guilty" verdicts after jury trials for DUI, assault with a deadly weapon, armed robbery, battery and making criminal threats. He has successfully argued motions to suppress leading to the dismissal of many cases. Attorney Isaac Blumberg has the necessary skills to negotiate an advantageous resolution of your case.
Law firms across California retain the services of Mr. Blumberg for his local expertise. Mr. Blumberg serves "Of Counsel" to the renowned Kavinoky Law Firm and is the lead attorney on all San Diego County matters on behalf of the firm since 2008. Working closely with a team of specially trained DUI lawyers, and constantly attending continuing legal education, Mr. Blumberg ensures the most effective defenses are being put forth on behalf of his clients. He is exceptionally familiar with and wins DMV hearings having appeared in front of each DMV Hearing Officer in San Diego. A DUI conviction can cause complicated and confusing DMV issues, especially with an out of state license, and Mr. Blumberg has the prior experience to educate and explain the process with your best options in mind.
If there is a way out of your legal problem, Isaac Blumberg is the criminal defense attorney who can and will find it. Let tested and proven experience work towards a successful outcome in your case. Contact the office today at 619-525-9911 if you or a loved one needs a strong legal defense, or complete the contact form provided on this site to arrange your free initial consultation.
Jurisdictions
All California State and Federal Courts
---
Education
University of Miami, 2001 BA Political Science
Emory University School of Law, 2004, Juris Doctorate
Admitted To The Bar: 12/2004
---
Professional Memberships and Achievements
State Bar of California
San Diego North County Bar Association
North County Bar Lawyer Referral Panel
San Diego County Office of Assigned Counsel Panel Member
National Association of Criminal Defense Lawyers (NACDL)
---
Languages Spoken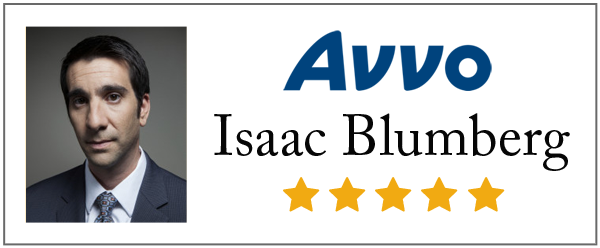 "Isaac is the only attorney I recommend to friends and family. He is honest, tells it like it is, trustworthy, and gets the job done. He sees both sides of the story, and recommends what is best for you, while weighing out the pros and cons. He answers the phone and responds back to emails quickly. His office is friendly and hard-working as well."
Do you need your record cleared?
We are San Diego's Original Expungement Law Firm. Please visit our sister site OFF MY RECORD for more information.

REQUEST A FREE CONSULTATION