When Words Carry the Consequences of "Sticks and Stones" — San Diego Criminal Threats Attorney
Despite the childhood idiom about "sticks and stones", the law sometimes treats threatening words with harsh consequences that make this idiom extremely inaccurate. If you ever have been involved in a heated disagreement, you may have threatened to harm the person with whom you were arguing. Even if you did not really intend to follow through on your threat, California law imposes criminal penalties for threats made against another individual. Since the threat does not need to result in physical violence or even the intent to carry out the threat, a person can be charged with making a criminal threat (formerly "terrorist threat") in everyday situations, such as:
Schoolyard disputes between kids
Heated arguments at work
Disputes between family members
Domestic squabbles between a dating couple
Chances are anyone who is reading this page has been involved in this type of verbal confrontation, which could have escalated to an empty threat out of frustration or anger. Individuals charged with this offense frequently have no prior arrests and a clean criminal record. Law abiding people from all walks of life sometimes lose their temper and utter vitriol that is intended to hurt feeling without any intention of following through on the threat. Unfortunately, many people are arrested because they do not realize that a threat of physical harm to another can be a crime without any intention of acting on the threat under Penal Code Section 422.
San Diego criminal threats attorney Isaac Blumberg understands that sometimes upstanding individuals vent in fits of rage. He is committed to ensuring that words uttered in the heat of passion do not adversely impact his client's life for years. Mr. Blumberg has successfully handled thousands of criminal matters in San Diego and throughout Southern California. While he works diligently to obtain diversion or a substantial reduction in charges against his clients, he does not hesitate to take a case to trial. Prosecutors know he will enthusiastically proceed to trial when a prosecutor does not agree to a resolution favorable to his client. Mr. Blumberg has tried almost thirty cases before Southern California juries.
Have you been charged with a crime and need the help of an experienced Criminal Defense Attorney?
Call to arrange your free consultation.
The California Law of Criminal Threats under Penal Code Section 422
Although an individual can be charged with making a criminal threat under PC Section 422, there are a number of facts that must be proved beyond a reasonable doubt under the statute:
Form of Communication:  The threat can take several forms including verbal, electronic or written form. In other words, sending a threatening fax, email or text message can expose the sender to criminal liability.
Specific Intent:  The accused must have had the actual intent of causing the target or recipient of the threat to experience fear.
Actual and Reasonable Fear by Target or Recipient of Threat:  The recipient or alleged target of the criminal threat must experience actual and reasonable fear. This means that the alleged victim's response must meet both a subjective and objective standard. The fear induced must be actually experienced by the alleged victim and reasonable based on an ordinary person's response.
Sufficient Duration of Fear:  The apprehension experienced by the alleged victim of a criminal threat must be sustained at least to some degree. If the purported victim experiences only a moment of fear, this may be insufficient to constitute a criminal threat.
More Than an Obvious Joke:  The manner of communicating the threat must make it seem that the party making the alleged threat is serious in expressing an intention to act on the threat. It is important to understand that an accused need not have an actual intention or plan to carry out the threat. The threat just needs to make it seem like the accused is serious about following through on the threat.
We have provided a couple of examples that illustrate how these criteria apply in ordinary situations:
Example 1:  If a man breaks off the bottom half off of a broken beer bottle and threatens to stab you with a bottle during an argument in a bar, this would likely constitute a criminal threat.
Example 2:  Teenagers are insulting each other's mother when one says I am going to chop off your head for that joke while laughing. The laughter, context of the conversation and lack of a weapon to carry out the threat make it appear unreasonable to fear the threat will be carried out.
Penalties for Criminal Threats under PC Section 422
The consequences for words uttered when someone just "loses it" during an argument can be life-changing. Notwithstanding the saying about "sticks and stones", the impact of using certain words can be devastating. This offense is a "wobbler" under California law, so it can be charged as either a felony or misdemeanor. If you are convicted of making a criminal threat under PC Section 422, your exposure to criminal punishment includes:
Felony Criminal Threat
Maximum 4 years in state prison
Fine up to $10,000
Possible strike under California Three Strikes Law
Misdemeanor Criminal Threat
Up to 12 months in jail
Maximum fine up to $1,000
Aggressive Defense of Individuals Charged with Making a Criminal Threat in Southern California
San Diego criminal defense lawyer Isaac Blumberg recognizes that these harsh penalties do not tell the whole story. Conviction of a criminal threat can result in a record that impacts employment, housing, immigration, academic, occupational and credit opportunities. Mr. Blumberg works aggressively to seek an acquittal or dismissal of the charges by asserting your constitutional rights and attacking the government's evidence and witnesses.
There are specific defenses that Mr. Blumberg might successfully employ if you are charged with making a criminal threat, which include but are not limited to the following:
Threat Was Ambiguous or Conditional:  To constitute a criminal threat, the alleged threat must be unqualified and immediate. Examples of threats that may not be sufficiently unambiguous and unconditional include:


"If you ever touch my car again, I will bash your head in."
"What goes around comes around, someday I will get you for what you did to me."
First Amendment:  The freedom of speech under the First Amendment limits the scope of the criminal threat statute. A rambling diatribe might be protected as free speech.
Lack of Sustained or Reasonable Fear:  If the complaining witness only experiences a moment of fear or the fear is unreasonable given the circumstances, this may not constitute a criminal threat. The surrounding circumstances can be important in determining whether the fear of the complaining witness was reasonable. If the parties are teasing one another, a threat made while the speaker is laughing might not be a basis for causing fear that is reasonable.
False Allegations:  Because there is no requirement of physical contact, this type of charge is subject to abuse. For example, a spouse involved in a contentious divorce might allege a criminal threat to gain an advantage in family court. We carefully investigate motivations for the complaining witness to lie and inconsistencies in statements provided by the complaining witness.
Southern California Criminal Defense — Let Isaac Blumberg Fight for You!
If you are under the cloud of a criminal investigation or you have been arrested for making a criminal threat in San Diego or the surrounding areas of Southern California, Mr. Blumberg will tenaciously defend your rights. He is committed to exposing law enforcement agencies that rush to judgment and overzealous prosecutors. We recognize our clients face dire circumstances, so we use all of our experience, resources and knowledge to obtain the best possible outcome for our clients. We invite you call us at 619-525-9911 to learn how we can help.
Jurisdictions
All California State and Federal Courts
---
Education
University of Miami, 2001 BA Political Science
Emory University School of Law, 2004, Juris Doctorate
Admitted To The Bar: 12/2004
---
Professional Memberships and Achievements
State Bar of California
San Diego North County Bar Association
North County Bar Lawyer Referral Panel
San Diego County Office of Assigned Counsel Panel Member
National Association of Criminal Defense Lawyers (NACDL)
---
Languages Spoken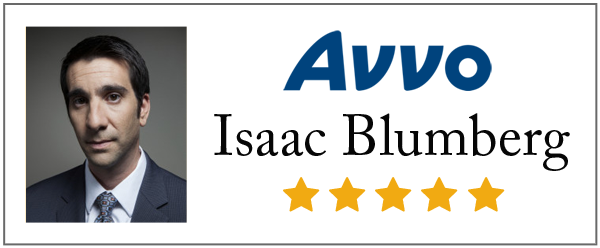 "Isaac is the only attorney I recommend to friends and family. He is honest, tells it like it is, trustworthy, and gets the job done. He sees both sides of the story, and recommends what is best for you, while weighing out the pros and cons. He answers the phone and responds back to emails quickly. His office is friendly and hard-working as well."
Do you need your record cleared?
We are San Diego's Original Expungement Law Firm. Please visit our sister site OFF MY RECORD for more information.

REQUEST A FREE CONSULTATION